I've logged nearly 1500 dives all over the world and my Dec 2021 trip to the Socorro Islands on the Rocio Del Mar was one of my best trips! I'd been to Socorro in May about 4 years earlier on another boat and enjoyed the trip but our encounters with mantas and dolphins were only brief. This trip blew me away compared to my previous experience. I credit the dive guides and the captain for adjusting our schedule and keeping us right where we needed to be for the best action. We had very close encounters with chevron and black oceanic mantas who played in our bubbles on almost every dive and stayed with us for extended periods of time. Bottlenose dolphins visited us several times and hovered vertically in the water inviting us to interact with them. If we weren't getting distracted by mantas and dolphins, we had lots of shark action (silkies, galapagos, white tips, silver tips, scalloped hammerheads). The shark action highlight for me was frequent sightings of big hammerhead schools in the blue above and below us and a big school crossed in front of us across the reef. The crew was friendly and helpful. The dive guides were just as excited as we were for every dive and worked hard to find the action! Loved the dive style of our guide Ben who knew how to get us to the action without going to fast or having to kick against the current. Ben also took amazing pics underwater which he willingly shared with anyone who wanted them. The food was tasty and plentiful. Beds and cabin were comfy. Highly recommend this trip!
Linda M.
Bellbrook, OH
December 2021
I was a guest on the most recent Socorro trip aboard Quino el Guardian, from Nov 21-30, 2021. I wanted to reach out to you directly to let you know how wonderful your entire crew and boat are. Every member of your crew played a part in making this the best birthday and one of the most incredible trips of my life! Dario, Antonio, Kike, Peter, and everyone else on board were so amazing and really went above and beyond for us to have the best experience, pulling off 22 dives. Chef Joshua blew us away with his meals every day, and the always smiling faces of Miguel and Captain Abraham made sure we were having a great time. I found the boat itself to be so comfortable and clean.
We all really enjoyed the interaction and experience of having scientist Deni (Ramirez) onboard, and the presentation on your Heroes Del Mar organization as well really made the trip special. Every piece of the trip truly exceeded my expectations and I can't wait to dive with your team again soon!
Shelby W.
Charlotte, NC
November 2021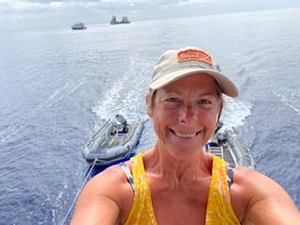 I joined Dr. Deni Ramirez Macias (aboard Quino el Guardian and a citizen science trip to ultrasound pregnant manta rays and whale sharks) to help her tag and identify mantas, and to ultrasound a whale shark. It was a trip of a lifetime! I have done many dive trips but to have a purpose in helping with important research to protect these magnificent creatures added a special purpose to my diving experience. I loved learning from Deni's lectures and just hanging out and talking around mealtimes. She's so authentic, passionate, and approachable.
Joan C.
Portland, OR
November 2020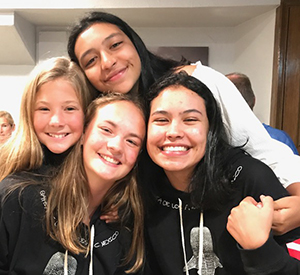 The Family Trip was a blast! We knew it'd be fun diving, but the whole trip exceeded our expectations. We had so much fun diving with the playful sea lions, great excitement swimming with whale sharks, and enjoyed everything in-between. The crew was incredibly welcoming and made us feel right at home, and the food was amazing and plentiful. It was particularly nice to see all the kids flock together and entertain each other on deck. Taking kids on the family trip is a great way to introduce them to a liveaboard and was great for all levels of divers. Our kids didn't want to leave and neither did we! The Sea of Cortez is a must-do and the Quino and crew are the way to do it!
Tara K.
Durham, NC
Quino el Guardian Family Trip
August 2019